Welshman's new snug bar is open for business!
Come and join us! We're discussing the UK election.
Tony Blair and Gordon Brown have already got a drink....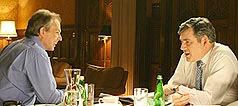 ...but there are still a few seats left near the fire.
and recommend it when you get there, so's we can get a good fug going.
The Tory manifesto came out today - they want less immigration, cleaner hospitals, and stricter schools. No sign of wanting to teach creationism as science, thank God. Howard looks like Dracula grinning from the inside cover (they don't want to risk putting him on the outside). Blair and Brown are pretending the Iraq war isn't happening, and that the country's blooming. Charlie Kennedy's wife's about to have a baby.
Whose round is it?